Back to Basics in 5 Simple Steps to Calculate The Number of Tiles You Required
Tweet
Ceramic Tiles plays a pivotal role as materials in Interior Decoration.It is mainly because ceramic tiles are pocket friendly and reveals an aesthetic look. Generally it is made up of red and white clay, these tiles are then glazed.The major use of Ceramic Tiles are used in Flooring and most residential buildings prefer to use ceramic tiles in apartments.
Ceramic tiles can also be used on walls, whether they are internal or external. On internal walls, they can be used to make patterns or quickly change the colour of a room; while on external walls they can be used to provide a cooling effect, since they do not absorb heat. This is especially beneficial during summer months.
How Ceramic Tiles Are Manufactured
Ceramic Tiles are made of various materials such as feldspar, zircon, bentonite, kaolin, and clay. The raw materials used in this process undergo various mechanical operations such as mixing, drying and forming to yield the ceramic tiled body.The tile body is then again heated at elevated temperature in order to improve the tile porosity.
The craze for ceramic tiles in the market is because they are highly durable.They give protection from abrasion and stains and they require less maintenance.The tiles are available in all sorts of colours as well as affordable prices.
Ceramic Tiles are used extensively in divergent Concrete Structures ranging from Houses , Flats, Bungalows to commercial complexes like schools, colleges , management institutions, hospitals and airports.It is also used for Industrial purposes such as food processing factories,retail houses,Hotels and warehouses
Types of Tiles
Different Construction Projects have different requirements.Floor, mosaic and wall tiles have different levels of thickness. The size of Tile one select will give a direct refreshing look to the new room.
For example a large tile in a small room makes the space look more expensive.Similarly small tiles in a big room will give a spacious look. Some of the different types of tiles used in Construction are mentioned below:
Porcelain Tiles
Ceramic Tiles
Mosaic Tiles
Metal Tiles
Porcelain Tiles
Porcelain Tiles are made up clay and other natural resources. Porcelain Tiles are water resistant so any spills wont make any difference to these tiles.Another significant feature of Porcelain tiles is it can withstand any type of wear and tear. They are ideal option for bathrooms , swimming pools and kitchen.
Ceramic Tiles
Ceramic Tiles consists of water,clay,sand and cement.However, the spaces between the tiles known as grout is filled with epoxy instead of cement.The grout can also be filled water sand or cement.Ceramic Tiles are natural fit for any bathroom, shower cubicles. To make some eye catchy backsplash arrangement these types of tiles are used as kitchen tiles.When properly treated and maintained, ceramic tile is also tough enough for outdoor use, with applications for patios, decks, lanais, and other enclosures or courtyards.
Mosaic Tiles
When it comes to styling and tiling Mosaic Tiles are the most glamorous option. You can use them as flooring, backsplashes, wall tiles and glamorous outdoors specially perfect fit for areas nearby the swimming pool and well lit outdoor spaces.
Metal Tiles
Metal tiles are manufactured from tin,copper,aluminium, and stainless steel.Embossed tin tiles and squares of sleek stainless steel provide a surface that is easy to clean and still adds to the overall look and feel of the room.Metal tiles have impeccable credentials and creates an appeal to our visual senses. Larger metal tiles can be used as kitchen countertops.Metal tiles are able to blend in with most designs and colors, which make decorating a breeze.
5 Awesome Tips To Calculate The Number of Tiles Required For a Room
If we are taking the house project in our hand , it is very easy to estimate the number of tiles required in a single room. All you need is the measuring tape, and some simple calculations.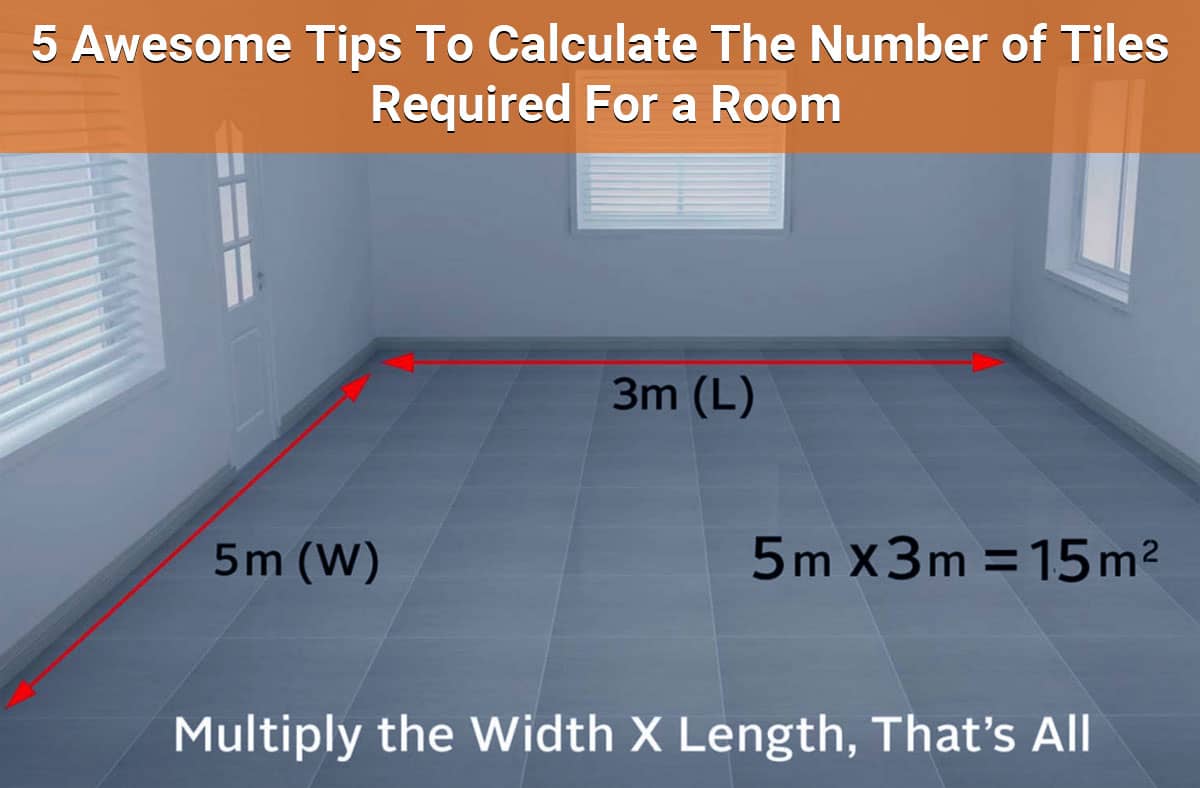 Requirements
Paper
Pen or Pencil
Measuring Tape
Calculator
Procedure
To calculate the number of tiles required for a single room just follow these simple procedures
Measure the length of one side of the room. If it is a ground project measure the length of one side of the floor
Measure the length of the other side of the room. With the measuring tape now calculate the other side of the room.
Multiply the two measurements- Multiplying the length by the width provides the square footage of the project area.For example, if the room measures 10 feet wide by 12 feet long, multiply 10 by 12. For example, if the room measures 10 feet wide by 12 feet long, multiply 10 by 12. The square footage of this room is 120 square feet.
Translate the square footage to the amount of Tile one needs - Tile typically comes in boxes, and you have to buy the whole box. Divide the total square footage of the room by the total square footage of the tile in the box.For example each box contains 10 square feet of tiles. Suppose if we consider 120 feet ,10 goes into 120 12 times, so one need to buy at least 12 boxes.
Calculate the overage you'll need. You should never buy just the amount of tile you need since you also need a bit extra for cuts, waste, breaks, and mistakes. Multiply the square footage of the room by 10%, then add this amount to the total square of the room. This is the total amount of square footage you should buy. To continue with the example we started above, .10 x 120 = 12, and 120 + 12 = 122. We'll need 122 square feet of tile.
Sometimes the style or the colour is discontinued one can replace the tile, one needs extras on hand to make the mends or repairs.Otherwise if one doesn't get the same tiles in the market , it will ruin the design and one has to change the entire flooring. So it is always wiser to keep some extra tiles while doing the flooring.